Moderator: redstangbob
Unfamiliar with these motors, what is this threaded hole on the exhaust manifold for? Should there be something in there or covering it? Thanks!
---
if that's the passenger side manifold then the hole is for the metal line that goes to choke on the carburetor. hope this helps
---
Yeah, copper line. Some have two, depending on the year.
Paul
VTCI 12014
Registry 45122
'64 Landau HT
"Beer, now there's a temporary solution!" ~Homer Simpson
---
Guys, I think this fellow is talking about the Female threaded bolt hole, which is located between the 3rd and 4th exhaust ports on the Drivers side. Is that not the steering box I see in the back ground.
Not sure if the Bird exhaust casting is used on other cars, (to lazy to search the Blue book) but it would be for bolting up a brace for possible A/C brackets, or inserting a lifting eye/guide fixture for assembly. There is a threaded hole also in the passenger exhaust casting, in the same front to back dimension.
No need to fill it or cover it, it is a blind hole.
There is no reference in the Osborne Engine Equipment Assembly Manual, of these threaded holes or brackets mounted.
CDN Member since 1975 #2086
Flock: 1964 Landau Original Family Owned
1964 Sr Convertible "RAVEN"
Past: 2003 Blk Lab "RAVEN" "RIP"Nov 15/17
1964 Lincoln vin4Y86N00007
1964 Red Convertible
---
Yes, I was referring to the female threaded hole. It is on both sides. Thanks for the help!
---
Posts: 2924
Joined: Wed Aug 20, 2003 10:52 pm
Location: Omaha, NE
Threaded.holes.in.manifold.were.for.lift.eye.bolts.on.assembly.line..Engine/trans.dropped.in.from.overhead.
Alan H. Tast, AIA
Technical Director/Past President,
Vintage Thunderbird Club Int'l.
Author, "Thunderbird 1955-1966" & "Thunderbird 50 Years"
1963 Hardtop & 1963 Sports Roadster
---
Posts: 520
Joined: Sat Dec 17, 2011 6:40 am
Location: England
Here's a pic of the a/c brace on my car. Never looked at the passenger side but Alan is right there is a hole there also so must have been a dual purpose hole. I'm not sure I would trust them with the weight of the engine and trans though.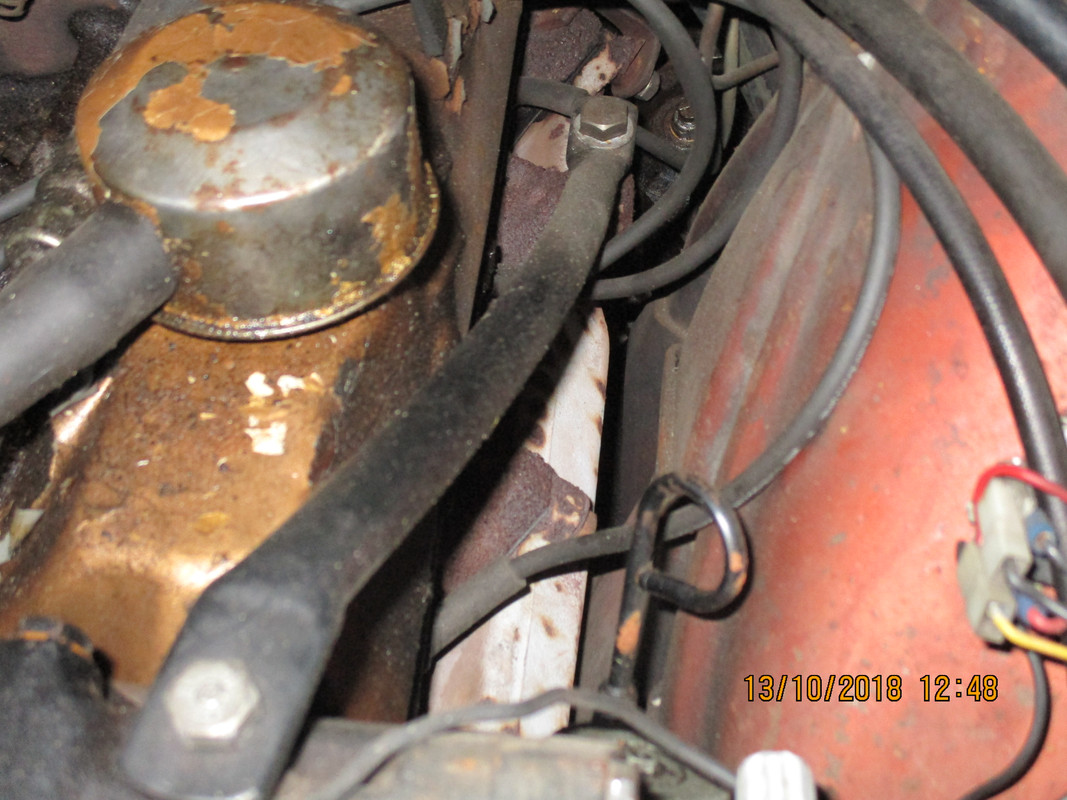 Dave Langhorne 65SL
UK
---
David, you would be amazed at the tensil strength that a tight 3/8 bolt has under tension. You would be able to virtually pick up the whole car by it.
As I mentioned these holes were for fabrication and bracketry and were located on both sides. I never tried to pick up an engine by these; to see if their location were a centroid point of balance. Interesting concept though.
CDN Member since 1975 #2086
Flock: 1964 Landau Original Family Owned
1964 Sr Convertible "RAVEN"
Past: 2003 Blk Lab "RAVEN" "RIP"Nov 15/17
1964 Lincoln vin4Y86N00007
1964 Red Convertible
---